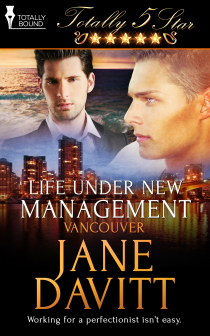 Blurb:
Working for a perfectionist like strict, sexy-as-hell Ethan isn't easy. Falling in love with him? No problem at all.
Taking a bar job in an exclusive hotel is a stopgap for Andy. He's an actor and his big break is coming soon—he knows it. His hot, new boss, Ethan, is strict, demanding and totally off-limits, but Andy can't stop thinking about him.
When Andy learns of Ethan's need to be in control of his partner—in bed and out of it—he's stunned by the intensity of his reaction. He wants Ethan guiding him, bringing order to his chaotic life. And he sees that Ethan needs him too, though they can't be open about their feelings.
Ethan deals out deliciously perverse consequences for misbehaving, but when it comes to incentives, he knows just what to offer to have Andy on his knees begging for more.
But some secrets can't stay that way for long. And when difficult choices arise, for once Andy can't turn to Ethan for guidance. This time, he's on his own.
Reader Advisory: This book contains scenes of intense pain play, including the use of a Wartenberg wheel and figging.
Excerpt: (found at Totally Bound website)
And if he chance to speak, be ready straight,
And with a low submissive reverence
Say, 'What is it your honour will command?'
—The Taming of the Shrew, Shakespeare
"Tell me why you think I should hire you, Mr. Naylor."
Andy directed another winning smile at the man behind the desk. Ethan Mason hadn't responded to the last three, but maybe they were chipping away at the ice—ice that had formed when he'd told Ethan to call him Andy then solidified after the confession that most of his experience of bars had been as a customer.
"I'm a hard worker." If he was doing something interesting. "Reliable." Up to a point. "Good with people." True. "I invented a cocktail once." Then drank so many of them, he'd forgotten the ingredients. Puked up around three in the morning. It had been a nasty mess.
Ethan pushed back his heavy wooden chair—no padding for this guy—and stood. Not an overly tall man, no obvious muscles bulging underneath the dark gray suit, but Andy guessed Ethan could break up a bar fight if needed without ruffling his smooth, dark hair. Cool guy. Ice-cool. And now 'ice, ice, baby' was stuck in his head in a retro hip-hop loop-de-loop, and shit, he needed this job. His rent was due. His place was a crappy dump, but this was Vancouver and even shoebox-sized rooms without a view of the water or the mountains—which took some doing—weren't cheap. He hadn't heard back about the dog food commercial yet, but something told him he hadn't gotten the part—the something being his main competition emerging from the final interview with lips barely dry from giving a blow job. No jizz streaking his chin, but that smug, used look was unmistakable. Andy had seen it in a mirror often enough, but he sucked cocks for pleasure, not to get a job. When he got his first major role—and he would, anytime soon—it would be down to his acting talent and nothing else.
His determination was wearing thin after a few years of bit parts that went nowhere, but he patched it when needed.
"Show me," Ethan said and left his office without looking back.
Andy chewed the inside of his cheek—a bad habit he had to stop—and followed him. They walked along a hallway with doors opening off it—storeroom, break room, cleaning supplies, the paintwork clean, the black and white floor tiles freshly mopped. Even behind the scenes, the Totally Five Star Hotel lived up to its name. The corridor led to a swinging door with a narrow glass panel set in it, allowing safe passage in either direction.
Behind the door was a bar, although not the main one for the hotel. Andy had seen that on the way in, impressed by the muted elegance of the place, all gleaming brass and dark green carpet, the swoop of the counter drawing attention to the glitter of glasses and bottles behind it. This was a smaller lounge—clean, severe lines, a black granite surface shimmering in the overhead lights as if it was liquid instead of solid enough to resist the blade of a knife, the walls painted bronze. Upmarket but still welcoming. At eight-thirty in the morning, it was empty.
Ethan kept going, opening a gate to give him access to the room. He took a seat on a stool with a curved back. Did that make it a chair or did they need four legs? Andy wasn't about to ask.
Ethan tapped the bar. "Make me your cocktail. And without getting tacky—we don't twirl bottles here—give me something to look at."
"Huh?" Andy's tie made his blue eyes a shade darker, but it had clearly developed a new ability of tightening at crucial moments, throttling the wearer. He couldn't breathe. He was a performer, for God's sake. What was wrong with him? He'd always excelled at improv sessions, even when the audience was hostile or unreceptive, and Ethan was neither of those. More like a teacher with a disappointing student, waiting for the correct answer and sure it wouldn't be forthcoming.
"I'm a customer in a classy cocktail bar. I'm about to pay fifteen dollars for a fancy drink with an improbable name from an attractive young man." Ethan's mouth twitched. Not a smile. More of a pained grimace. "Give me my money's worth, Mr. Naylor. Charm me, so the tip I leave is a generous one."
Andy eased the knot on the tie and gave Ethan smile number four—or five. He'd lost count. "Sure thing."
Ethan's gray eyes hardened and he raised an eyebrow. "Excuse me?"
"Yes, sir?" Andy hazarded.
"Better."
Available now at Totally Bound and ARe